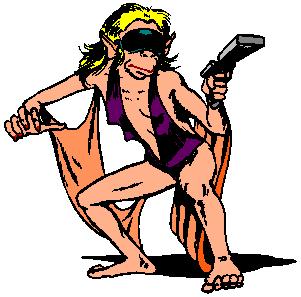 Movement
Walking: 10 m/turn
Running: 30 m/turn
Hourly: 4 kph
Racial Abilities
Battle Rage:n/a%.
Night Vision: But -15 to all actions in full light.
Gliding: Can glide 1m forward for each 1m dropped.
Skills
Primary Skill Area:
Biosocial
Background
Eusyl used to work for Dave Schick Enterprises but quickly grew bored of the manual labor sector. She is now striking out on her own looking to make a name for herself as a free lance adventurer.
Equipment
Albedo Suit 
Laser Pistol
  5 20SEU PowerClips
Doze Grenade

Standard Equipment Pack
(chronocom, coveralls, ID, first aid pack w 1 stimdose & 1 staydose, pocket tool, survival rations)
MedKit
Gas Mask
1 solvaway
4 days rations
4 days water

Automatic Rifle w/5 bulletclips stored in quarters

405 credits